Rent-A-Sissy 2: Earning His Keep By: Kylie Gable
Genres: #Forced #Feminization #CollegeSex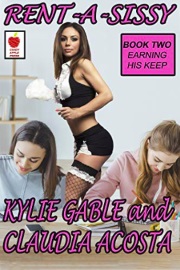 "GIGI THE FRENCH MAID? POOR TYLER DOESN'T LIKE THE SOUND OF THAT."
Unfortunately, Sydney and her friends seem determined to transform him into the hottest thing on campus for fun and for profit. Can Tyler learn to be a decent maid and what will they do if he can't?
This is the second of a four part story about forced feminization, domination, and humiliation in a college environment. It is intended for mature readers.
#KinkyLiterature, #KinkyBooks, #EroticFiction, #EroticLiterature, #Erotic, #Erotica, #Kink, #Kinky, #Fiction, #KinkyLit